How DigitalDrawer Can Help Your Accounting Office
Both accounting firms and accounting departments have one thing in common.  They have a lot of files in many different places. DigitalDrawer can be your new organized filing system.
For example, vendor invoices are often received as attachments in email and as paper copies via snail mail. So how do you store them all in one central location so that you can find them easily? There's only one way to do it and that's to use a paperless filing system. With a paperless filing system, you will scan your paper copies and save your email attachments efficiently into one central location. Now, everything is in one place, keeping you from having to search through endless email attachments and paper filing cabinets for the document you are looking for. This makes your work so much quicker and easier.
DigitalDrawer is the perfect system for such a task. With DigitalDrawer, you will be able to scan all of your files into the system very quickly, as well as drag & drop your email attachments into the same system. You will then be able to easily find all of your files, using search keys such as vendor name, invoice #, etc. and have them instantly displayed on your computer.
DigitalDrawer will also ease your burden during tax time. From the client's standpoint, the required files will already be stored within the system, in an organized fashion, ready to be sent to the accountant. From the CPA's standpoint, since the client can easily send you all of the files that you need, you can begin your work immediately, instead of having to go back to the client asking for them to send you a bunch of missing files.
Another benefit includes increased protection from potentially losing documents due to an office fire, water damage, or misplaced files. You will also benefit from quicker customer and vendor response times. DigitalDrawer is the solution to the paper problem in your office.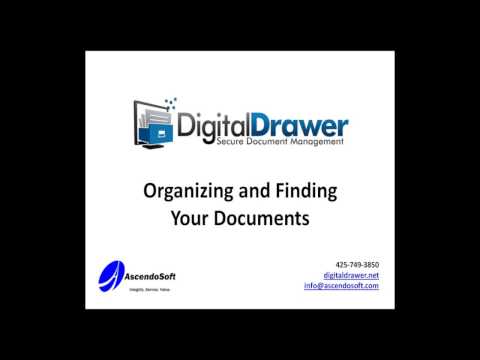 Organizing Documents
Key Features
Familiar Windows-based Folders
Easy Searches using Keywords
Scan Directly or Drag & Drop Documents
Full-text Document Search
Highlight, Add Notes, Redact Documents
Use with PDF, Word and Excel, JPEG, TIFF files
More Features