How DigitalDrawer Can Help Your Office
All businesses share one similarity: they all use and store a lot of paper. Whether its accounting files, personnel records, customer records, or general project files, it is likely that you have one or more rooms full of files.
The problem you most likely have is that finding the files you need can be difficult and time consuming. And often, the time is wasted because the file you are looking for is in someone else's office or has been misplaced. This is not a coincidence because the most important documents are the ones that get handled the most and are therefore the most likely to get mis-filed. It can be very frustrating.
A major risk is having all of those important files just sitting there, unprotected, in the file room. Any number of disasters could cause you to lose some or all of those files, such as a fire, a busted pipe in the building, or files just "disappearing". Often a company doesn't decide to become paperless until after one of these situations has occurred. But that's a little too late.
DigitalDrawer can solve these problems. With DigitalDrawer, you can quickly scan all of your files, label them, and pull them up in seconds. No more looking around for your files. They will always be right there on your computer. Plus, in the event of an emergency, your files are protected. With multiple backup locations, you never have to worry about losing any of your files. That is why DigitalDrawer is the key to the paperless office.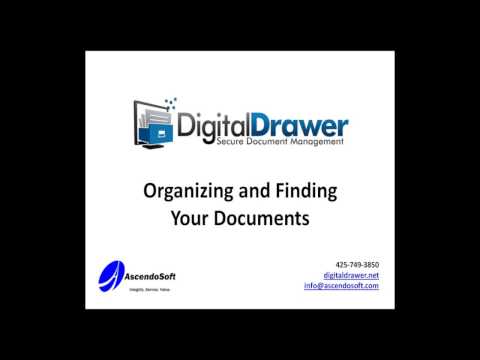 Organizing Documents
Key Features

Familiar Windows-based Folders
Easy Searches using Keywords
Scan Directly or Drag & Drop Documents
Full-text Document Search
Highlight, Add Notes, Redact Documents
Use with PDF, Word and Excel, JPEG, TIFF files
More Features