How DigitalDrawer Can Help Your Insurance Office
Is your insurance agency overwhelmed with trying to manage documents, applications, policies, claims, incident photographs, and various reports? These documents must be kept in a safe yet easily-accessible location, which usually ends up occupying valuable office space. This can lead to a huge waste of money and resources, not to mention the time it takes for someone to file and then later hunt down these documents.
The efficiencies that can be gained from becoming a "paperless" office can be tremendous. Once your office is paperless, all of these files can be stored much cheaper in off-site storage, or even be shredded since the electronic copies of these files will be backed up in multiple locations. You will then be able to find any document within seconds, by easily searching keywords to find the file you are looking for.
DigitalDrawer can be your entire paperless office solution. With DigitalDrawer's ability to allow you to scan and label your files extremely fast, you can be paperless in no time. Plus, since DigitalDrawer comes with a free trial and low monthly payments, you can begin to realize the cost benefits of DigitalDrawer immediately. To get started with DigitalDrawer, download your free trial today.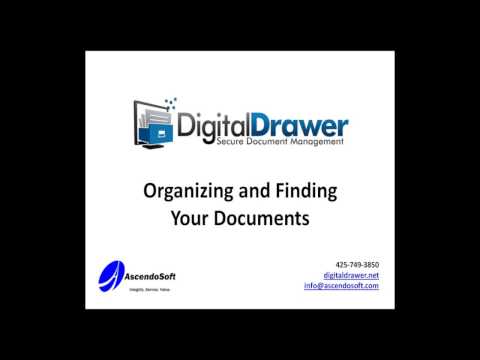 Organizing Documents
Key Features

Familiar Windows-based Folders
Easy Searches using Keywords
Scan Directly or Drag & Drop Documents
Full-text Document Search
Highlight, Add Notes, Redact Documents
Use with PDF, Word and Excel, JPEG, TIFF files
More Features